Good Morning Messages For Her (Girlfriend Or Wife)
Sun is rising
Birds singing
Alarm's ringing
Morning breeze blowing
Little Little dew shining
Beautiful flowers blooming
Get up, Get up, Good monring
When I look into your preety eyes, I fall in love with you over and over again.
Good Morning Honey!
You might also like - good morning messages for her
romantic good morning love messages for girlfriend
SpcLy 4U!
*@''''@*
**( ' ; ' )**
*(@)-''-(@)*
*(@)(@)*
Here is
chhotu sa,
Cute sa,
motu sa teddy bear 4u!!
Wishing u a gudi wudi sweetie mrng
Was she repeating herself in your dreams all through the night? Send one of these lovely good morning texts for her to let her know she's on your mind. Get here broad collection of good morning messages for girlfriend that you can text messages your spouse or special one. The best way to make your girlfriend smile and fill her heart with greater affection is to say sweet things about her. A loving note from your life partner is the best thing to see when you wake up in the morning. Words can mean a lot in relationships. Her entire day can be brightened by sending her a nice good morning text. A sweet good morning message can start her day off right and motivate her throughout the day. Simply jot down any feelings of love that come to mind. Wait till the morning to send her a romantic note to express your thoughts. Here are some lovely good morning wishes for her and some nice good morning pictures and cards for your girlfriend or wife. Do you have a romantic streak? Or shudder at the idea of even attempting to be? Sending her a romantic good morning text message will make her love you even more, despite the fact that you aren't the romantic sort. It doesn't have to be difficult; just express your feelings for her. There are a lot of cute messages or sweet sentiments here that might be just what she needs to start her day!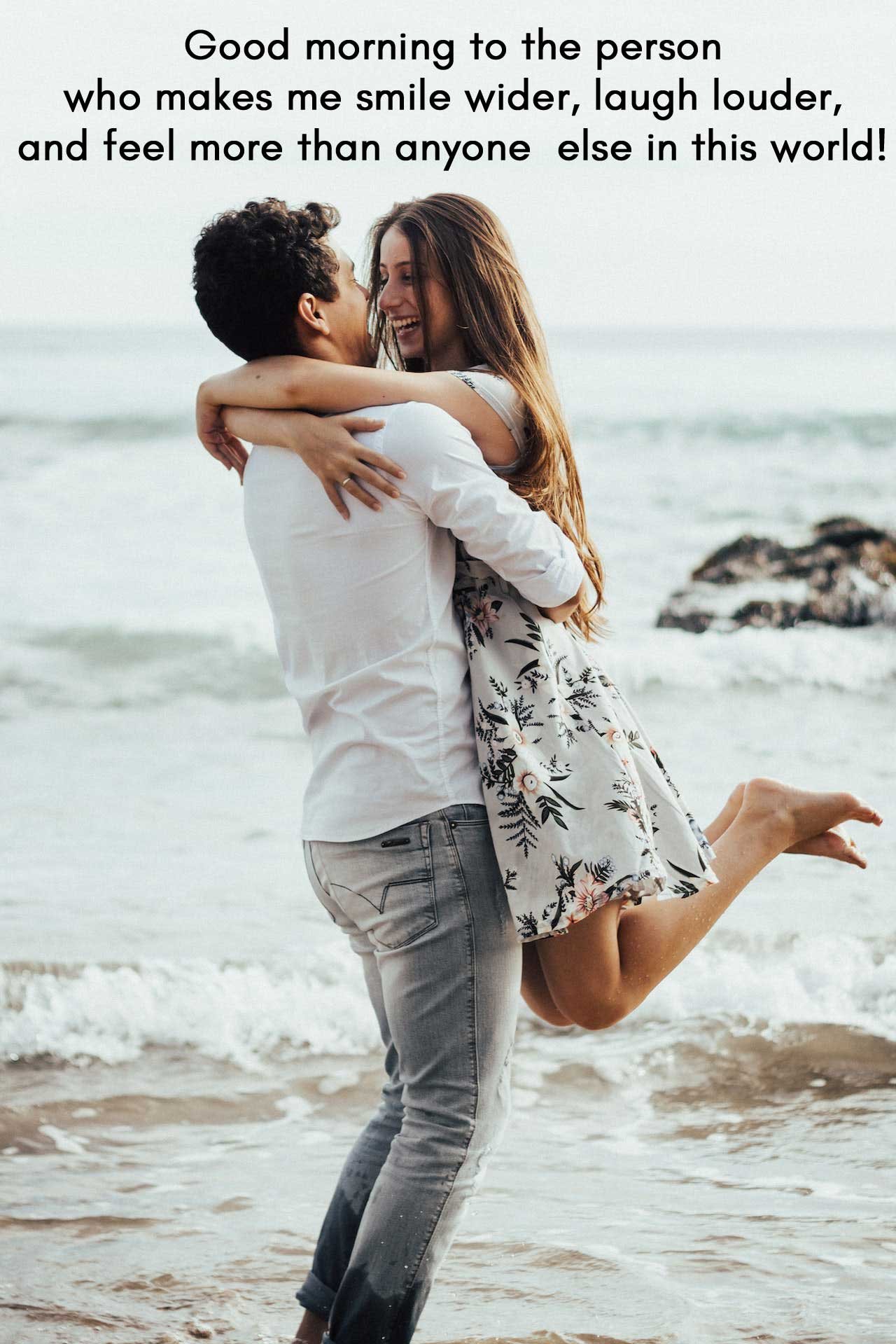 Good morning 2 U,
I-magination 2 ecstasy,
L-aughed in ur smile,
O-verwhelmed with joy,
V-ery moment of U,
E-njoyed the feelings,
U-nable to exit dream.
As I am always to U.
Good morning, sunshine! You are always the light of my day.
Best wishes, hugs, and kisses as you go conquer the day! Good morning, sweetheart.
Jb apka naam juban pr ata hai.
Pata nhi dil q muskurata hai
tasali ho jati hai mann ko
koi hai apna jo hr pal haste hue yaad ata hai
gd mrng
GOOD MORNING
JUST 4 U
MUST 4 U..
FIRST 4 U..
NOTHING 2 SAY..
ALWAYS B HAPPY...
ITS MY PRAY..'
HAVE A NICE DAY..
Gud Morning
Especially 4 Guys
DONT MAKE ANY GIRL CRY IN UR LIFE!!!
COZ,
WEN SHE STOPED CRYING....
THEN U WONT B ABLE 2 SMILE AGAIN !!GUD MRNG FRND.
.-..-.
"-..-"
/( )\
_| |_

Ye hai hamra Dil samghe ka
Usko app ke paas bhej raha hu
Good morning kahne ko
jao jao jaldi jao
Mere girlfriend ko wish karo
aur na jage to kiss karo
Ego is like ur branded clothes,
it is important that you have it,
but not necessary that you show it
gd mrng
Try to make better use of ur non-work tym to have some fun.
This is a gud way to break up D monotony of everyday life.
Good Morning...
Mohbat kro itni k had n rhe,
Intezar kro itna k waqt n rhe,
Bharosa kro itna k shak na rhe,
kisi ko Apna samjho itna k,
kisi aur ka uspe haq na rhe. Gud Mrg
END is not the End
In fact E.N.D. is
"Effort Never Dies"
If you get NO as an answer, remember, N.O. is
"Next Oportunity"
Always B+ve...!!!
Gud morning...
Simple thoughts to our lovables :

Adjustment is always better than Argument...

Good Morning...
(",)
;-/) )_,
(*)<=(*)
Trin...Trin...
Paper, Paper.
"TIMES OF WISHES".
Head Lines : "Wish YoU A very Sweet G@@D MorninG"
Have A Nice Day.
Accepting evry victory wid a Humble Hrt,
And evry defeat wid a Gracious Mind.
Is d best way to live in dis world.
Win or Loss, Life has 2 go on.
Gud mrg!!
I laugh,
I love,
I hope,
I try
I hurt,
I need,
I fear,
I cry.
And I know you do the same things too, So we're really not that different, me and you "
(¯`•¸·´¯) (¯`•¸·´¯)
I miss you like a little kid.
I miss you like crazy.
I miss you like morning coffee.
I miss you like slave need liberty.
I miss you like love need loyalty.
I miss you like song need melody.
I miss you deeply.
I miss you terribly.
I miss you like no one else would do.
I cherish you like one else would do.
Good Morning Baby!
(Good morning wishes for girlfriend when you miss her so much)
Once Rajnikant
donated a drop of blood 2 a poor, weak n sick child..
That little boy is now called -
THE GREAT KHALI........
Good morning...
kabhi subah suhani hogi
jab raat aap ki diwani hogi
khub milenge duniya ki raho mein
jo humse aap ki kahani hogi
Gud Morning
I feel your love in my heart
I feel your warmth in night
I smell your fragrance in wine
I hear your laughter in air
I feel your fingers in my hair
I smell, I hear, I feel,
When you come to me
You touch me and I melt
I Love you. GÔÔD MØRNING.....good morning messages for girlfriend
I've told this message to go to the sweetest person in the world and now you are reading it. Good morning sweetie.
Jagnewale Yatri kripya dhyan de
GOOD MORNING EXPRESS
apke mobile k platfom par aa chuki he.
Sweet pasenger se anurodh he
ki jage or din ki shuruat kare.
'GOOD MORNING'.
(\,,,/) . (\,,,/)
( ~,~) ( '=' )
(,,)(,,) (,,)(,,)

Detho Titni Pyali Shubha Hai

Letin Aap Shoo Lay ho Danday Bachay!

Otho Otho

GoOD Mornind…
Its so common to hear,
HOW RU?
WAT RU DOING?
HOWAZ UR DAY?
ANY PLANS??
.
.
So let me ask u something different!
.
.
Did u smile today?
Just smile!
Gud morning!
Ting Tong Open The Door!
Kaun ? Hum
Hum Kaun ? Hum "SMS"
Kya Chahiye?
"Aap" K Chehre Par ek Pyari si "SMILE"
Yes, Yes, Yes, Yes Yahi Wali.
"GuD MoniG Dear"
Ujala kafi ho chuka hai
us shamma ko bujha do
ek hasin subah rah dekh rahi hai aapki;
bas palko ko
halke se utha do.
Good morning have a nice day
The sun is shining bright
Start the day with a smile
Good morning, my darling
Wake up and live

Home | good morning text | good morning wishes | good morning msg | good morning messages |