(Good morning messages for friends)
Dear buddy you are like
tulips. Coz you fill my
world with beauty.
Good morning!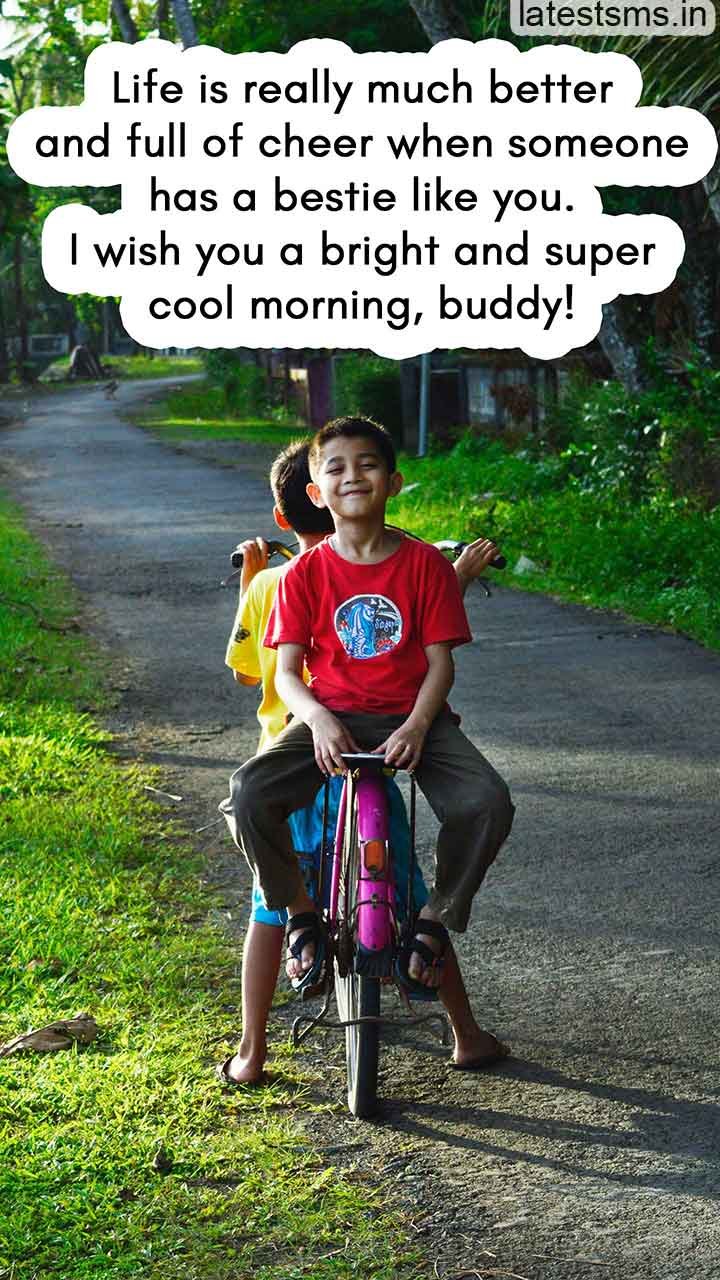 Life is really much better and full of cheer when some one has a bestie like you. I wish you a bright and super-cool morning, buddy!
Smiling is a sign of Good Mood..
Laughing is sign of Happiness..
Praying is sign of Good Faith..
and having you as my friend is
a sign of God's Blessings.
Good Morning!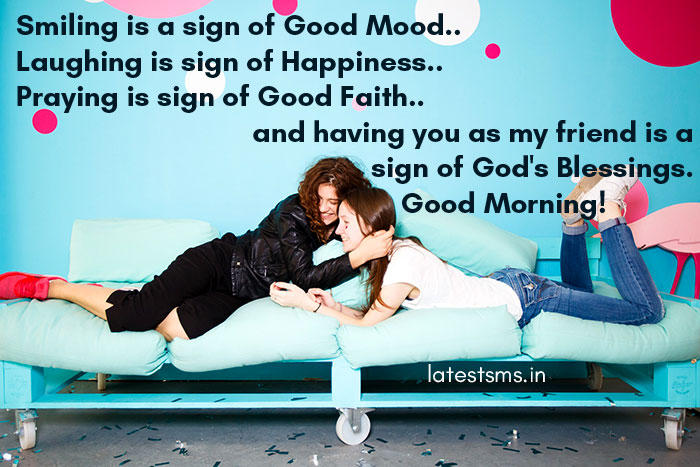 I wish you an abundance of delight and surprises throughout your day. Hello and good morning!
Greetings, dear friend. I wish you wake up with a bright smile on your face.
Wake up and send me a text; your message is like sugar in my morning tea.
Good morning buddy!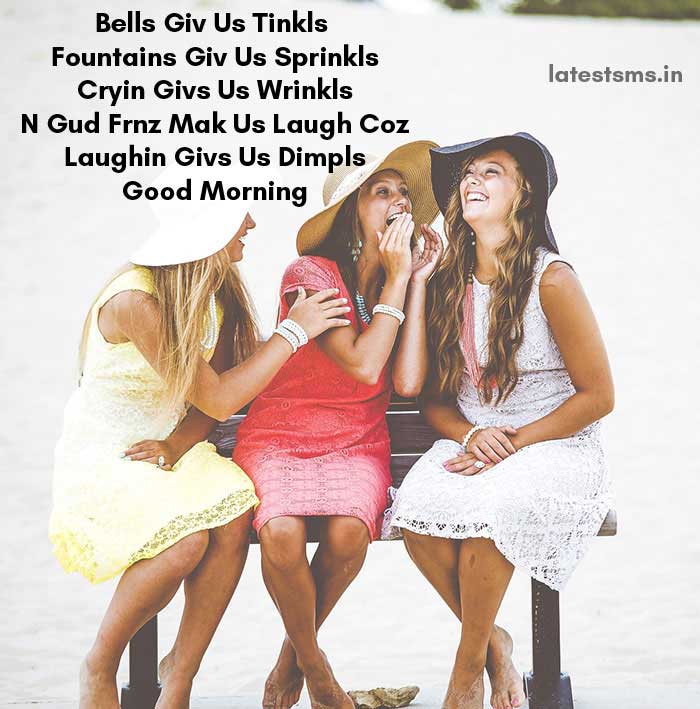 (Good morning messages for friends)
Bells Giv Us Tinkls
Fountains Giv Us Sprinkls
Cryin Givs Us Wrinkls
N Gud Frnz Mak Us Laugh Coz
Laughin Givs Us Dimpls
:) GooD MorninG :)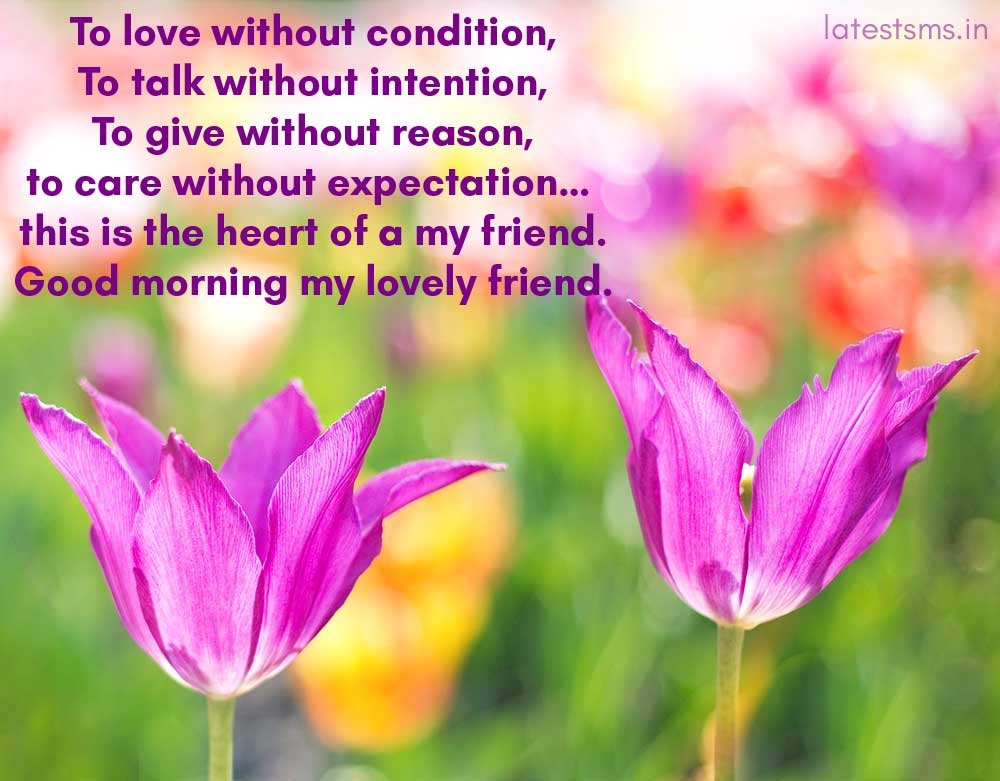 To love without condition,
To talk without intention,
To give without reason,
To care without expectation…
This is the heart of a my buddy.
Good morning my lovely buddy.
I wish you a truly blissful day ahead.
*
heart touching good morning messages for friends
Hi, sweet buddy. Without messaging you, my mornings are not complete. Greetings and have a wonderful morning!
Since you are a part of it, the day is gorgeous.
You are sweeter than honey. You are more vibrant than the first light in the garden. Good morning, my buddy!
A sweet friendship refreshes the soul. Good Morning!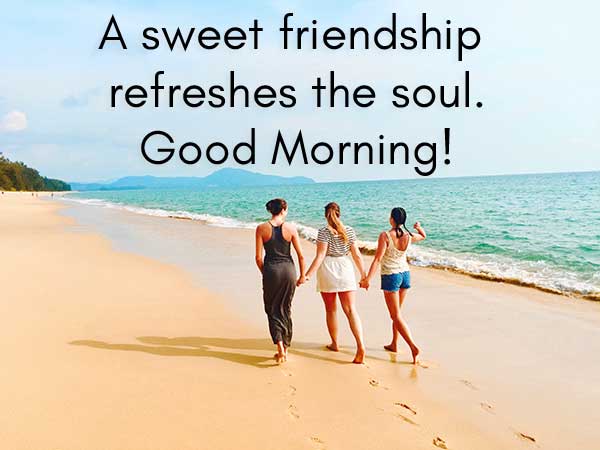 It is a
'S'imple'
'M'ind touching
'I'nteractive
'L'ong lasting
'E'ffect which wins the hearts..
Yes..
Its your 'SWEET SMILE' So Keep smiling
always, gudmrng... Friend
Good morning messages for friends
Good morning buddy. As you start your day,
I wish you success in everything you do.
I wish you the best of the day.
You are capable, kind, and skillful. Your virtue will help you succeed. wishing you a joyful beginning!
Good Morning Friends!
Put the past behind you, count your new days, and start over. Welcome to the day. Good morning!
Success requires a strong will. Embrace your will with enthusiasm.
Create your own tale! Add lovely memories on the blank pages.
Wishing you a happy morning.
My motivation comes from you. You give me good vibes. You give me hope and the wind beneath my wings. A wonderful morning to you, Dear buddy!
There are always going to be challenges and hard times in life. Cherish the mornings and hold onto the pleasant memories.
Get up! You have been blessed with the ability to overcome your mistakes and are made to succeed. Good morning!
Never give up on your aspirations because they might come true at any time. Good morning, my friend.
Never give up. Wait for a new beginning. Something special is waiting for you. Get up and shine. Welcome to the new day. Happy morning! Lots of love to you.(good morning quotes for friends)
A brand new day is a sign that yesterday is gone and the past is buried.
It's time to look forward. For today is certainly going to be a beautiful and better day.
Good morning my dear pal.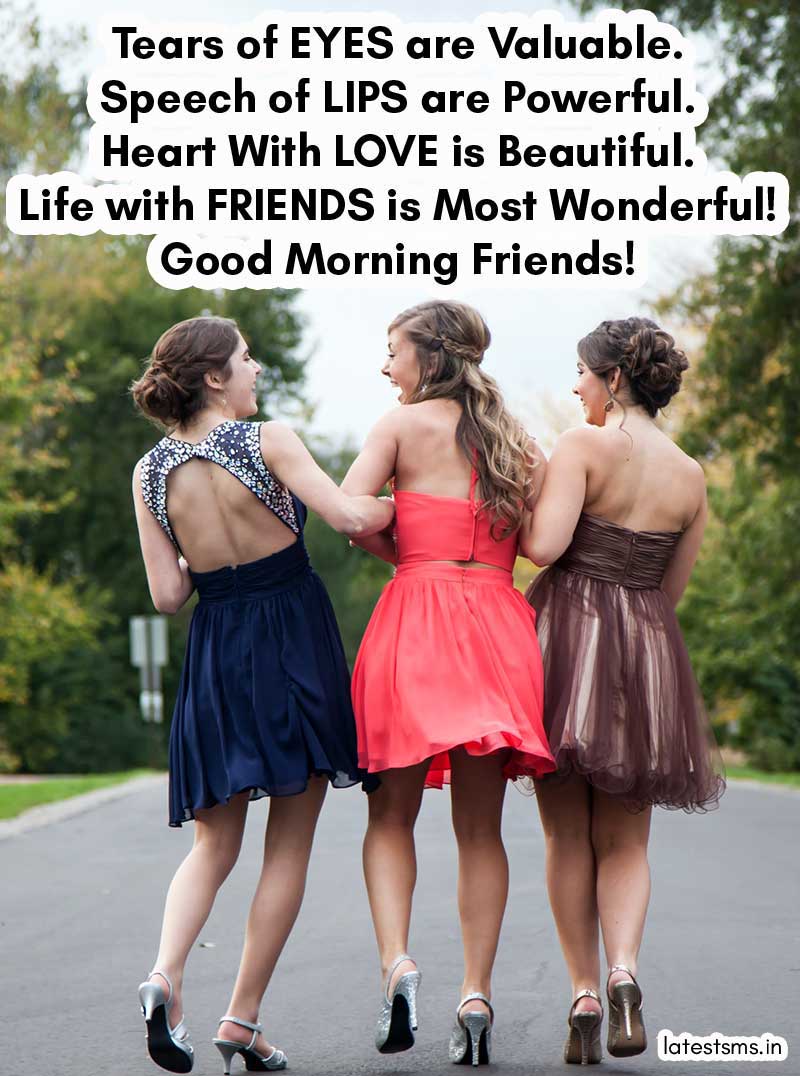 Tears of EYES are Valuable.
Speech of LIPS are Powerful.
Heart With LOVE is Beautiful.
Life with FRIENDS is Most Wonderful.. !!
Good Morning Friends!
(good morning message for a female friend)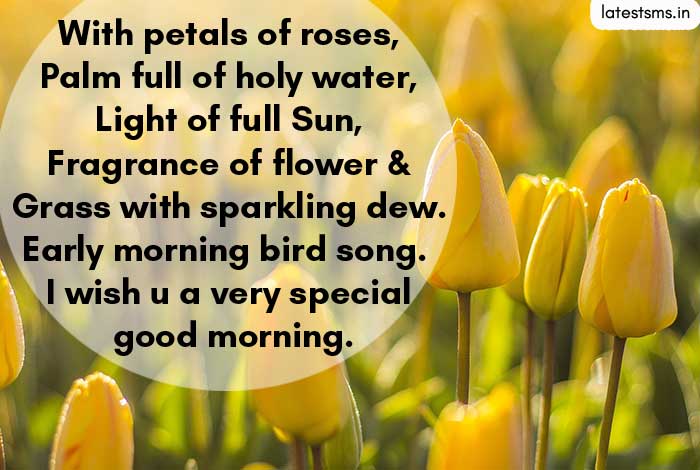 Heart touching good morning messages for friends
With petals of roses,
Palm full of holy water,
Light of full Sun,
Fragrance of flower &
Grass with sparkling dew.
Early morning bird song.
I wish u a very special good morning.
When fragrance of roses spreads in everywhere in garden,
when rainbow displays its wonderful shades on sky,
when sun beams fall on dew drops it looks like stars,
by seeing such wonderful scenes of nature,
my heart misses bosom buddy and
want to wish Good morning amidst such pleasant and blissful surroundings.
Good Morning Friend
May this jovial morning fill you with wonderful vibes and boundless energy for the rest of your day.
I wish you a wonderful morning!
May this morning's freshness shower you with many blessings and prosperity in your life.
Wishing you a wonderful day!
Good morning to the most amazing person I've ever met. May your day be filled with amazing experiences, dear buddy.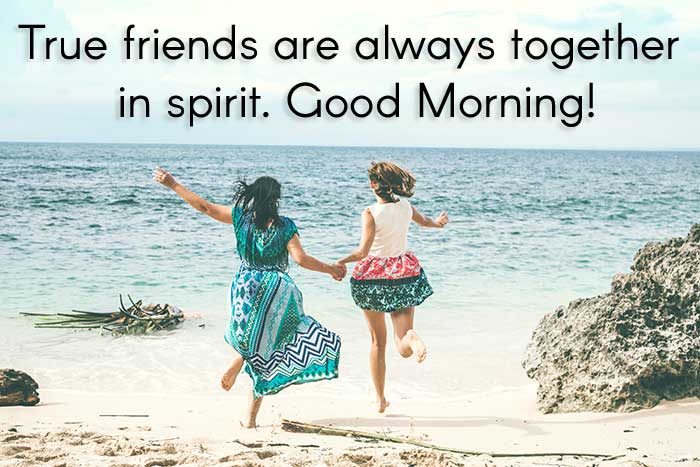 Discovering a perfect pair of shoes is similar to finding friendship. You begin your search for the ideal pair, but ultimately settle on those that provide you with the most comfort. Good morning pal! (good morning message for a female friend)
I sincerely wish my morning message injects lots of joy, inspiration and positive energy into your life. Good morning to all my lovely buddies!
We all yearn for affection and support from our dear ones because it ignites the fire inside us and motivates us to start the day with zeal and vigour. Get here, good morning messages for friends or heart touching good morning wishes for friends crafted in a beautiful word picture.
G-get up
O-open ur eyes
O-out of ur bed
D-day has risen
M-merry life
O-old dreams cum true
R-rise$shine
N-new frnds
I-ideas of life
N-nice future
G-GOODDAY 4 U!
Full form of SMS
S -sweet,
M -morning,
S -starts with my sms
Good morning..Friend (Good morning messages for friends)
Tension is the poison of the Ambition..so no more tension,
have full attention on your ambition, U will be in Good position...
Good morning..Friend
One day Monday went toTuesday to see Wednesday and ask Thursday wheather Frday has told Saturday that SundaY is a FUN day....Good morning...friend
May your salty days be peppered with spicy love.
May u bask in lemon sunshine, play on strawberry fields,
under a vanilla sky.. in short have a Yummy day!
khushi ka har pal ho tumhare liye baharo ka gulista ho tumhare liye
kamyabi ki manzil ho tumhare liye
bas ek pal tumhara ho hamare liye.
Good morning
HThisH HiSH HThEH HNeWH HwaYH HToH HSAyH HGuDH HMoRNingH HINH HAH HnEWH HStYLEH... Do u UndersTand dis ? Remove 1st & last AlphabeT in evRy Word... "GoT IT"
Dil armano se houseful hai, pure hoge ya nhi doubtful hai, is duniya me hr cheez wonderful hai, pr zindagi aap jese dost se hi COLOURFULL hai!
G'@'_'@'D MORNING
I wish for SUN to warm U, MOON to charm U,
A SHELTRING Angle so that nothing can Harm U…
Faithful friends near U and everything U pray GOD to hear U…Good morning….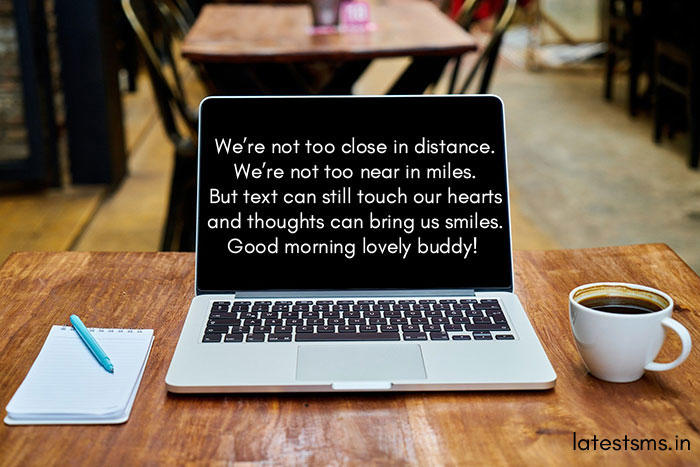 We're not too close in distance.
We're not too near in miles.
But text can still touch our hearts
and thoughts can bring us smiles.
Good morning lovely buddy!
#Heart touching good morning messages for friends
Friendship isnít a big thingó itís a million little things Good Morning
Life never seems to be the way we want it,
but we live it the best way we can.There is no
perfect life, but we can fill it with perfect
Moments...Good morning!
Bare Armaan Se Banwaya Hai
Isse Roshni Se Sajaya Hai
Bahot Dor Se Mangwaya Hai
Zara Khirki Khol Ke Daikho
Ap Ko Good Morning Kehne
Suraj Aaya Hai ...
G O_O D MORNING :)
Subha me koi mera messages aaye to, Yu na samajna mene aapko pareshan kiya, Iska matlab hai aap wo khas hai, Jise mene apni aankhe khulte hi yaad kiya.
The greatest time to text our buddies is in the morning. It's a mild but oblique reminder that we're thinking of them right at the beginning of the day. Say good morning to your buddy! Greet friends! Greeting helps us connect to people at a more personal level and triggers positivity. It only takes a few nice words to brighten their day. Also good morning messages is a way to bond with a buddy to become even closer. Good morning wishes, words and text will really kick start their day on a good note.
Best friends support you in every facet of life. They lend you a helping hand as you navigate the difficulties of life. A good friend listens to your issues and helps you laugh when you're feeling down. Sending heartfelt good moring messages to friends that show how much you care about and cherish them. Heart touching good morning messages for friends the best way to express your thoughts, feelings and attitude with just a few words. To express our feelings to that special buddy in your life, we might use good friendship texts.
Wishing you a day as sunny as your smile,
as warm as your heart, a day as wonderful as you are.
Good Morning pal.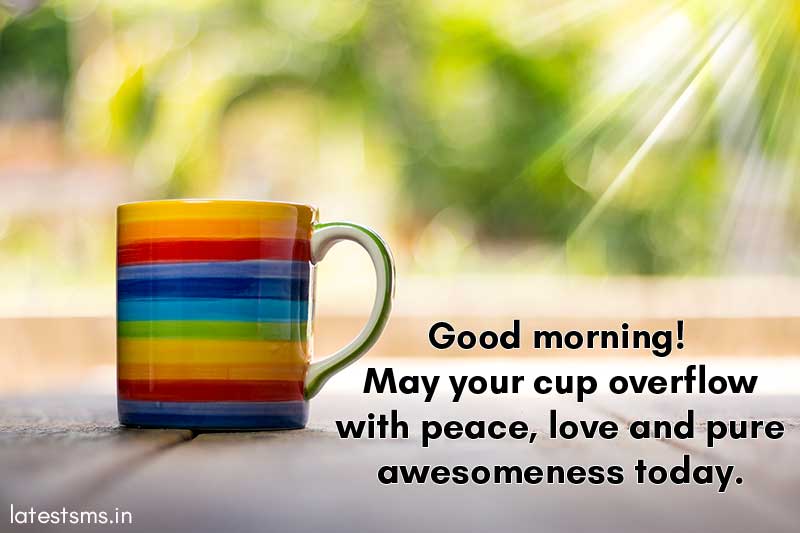 Good Morning wishes for friends-
May today be filled with peace, love, and sheer magnificence.
May every sunrise bring you more hope. Good morning to all my buddies that have just awoken.
When I spend a morning with you, it becomes more wonderful.
I've experienced my fair share of disappointments and betrayals from folks I hold dear to my heart. It's been a while since you entered my life and shown to me the value of true friendship. Good Morning mate.
I wish there was a way for me to express to you how significant you are in my life. Your friendship means so much. I wish you will always be my best buddy. Good Moring.