::§:: Santa Banta Short Jokes ::§::
Santa 14th floor se niche gir gaya,
Girte waqt usne apni ghar ki khidki se
apni biwi ko roti banate huye dekha aur
wo zor se chilaya "Mere liye mat banana…"
Santa Banta short jokes—
Photographer Santa was focusing on the dead body's face in a funeral function.
Suddenly all the relatives started beating him - why?
He said "SMILE PLEASE"
Santa-Aaj meri bhesh ne anda diya.
Banta-abe Bhesh kab se anda dene lagi.
Santa-ye mera style hain.. main apni murgi ka naam bhesh rakha hain.
Madam: Agar apna Character sudharna chahte ho to
Apni Madam ko apni maa samaj samjho.
Banta: Kya bat karti ho madam
Fir is'se to hamare Papa ka
Charactor kharab ho jayega.
Why can't Santa dial Nine-Eleven (911) at emergency?
They cannot find the eleven on the phone.
What does a Santa do after taking a Xerox?
He will compare it with the original for any spelling mistakes.
Santa vs Banta Math Quiz competition.
What is half of 8?
Santa: 4
Banta: Depend karta hai .... agar horizontally half karo to ''0'' or vertically karo to ''3''
Questioner shocked!
Company Manager asked Banta at an interview.
Can you tell a word that has more than 120 letters in it?
Banta responded: POSTBOX
Santa : Sitting on The Top of the Mountain and Studying.... When Banta asked what he was doing.... He replied... Oye!! Higher Studies Yaar...!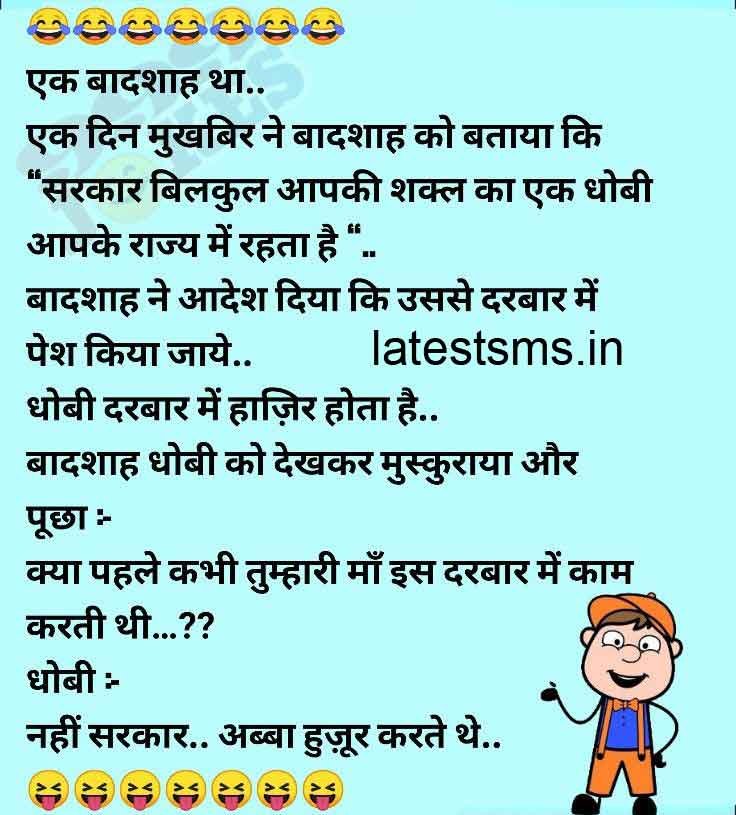 In an interview with Santa, a bank manager ask, "What is cyclone?"
"It is the loan offered to buy a bicycle," Santa says.
Salesman: Sir, do you want this powder ?
Banta: For what ?
Salesman: To kill rats
Banta: No. If I give powder today, they will demand lipstick tomorrow!!
The most hilarious jokes ever said-
Banta: How the word 'Wife' was invented?
Santa: They took the first two and last two letters of 'Wildlife'!
200 metre ki race ho rahi thi...
Referee - '1,2,3 GO!'...
Everybody started running except Santa.
Referee - why r u not running...?
Santa - My number is 4 sir
Santa reading newspaper..
News: "Indian athlete lost gold medal in long jump"
Santa comments: Idiot !! Who told him to wear gold medal while jumping!!!.
Madam: "What is common between Ram, Krishna, Buddha and Jesus?
Banta: All are born on government holidays!
Banta Rishte Ke Liye Tasveer Khichwa Raha Tha
Peeche Gadha Bhi Tasveer Me Aa Gaya
To Banta Ne Ye Likh Kar Tasveer Bheji-
'I AM ON RIGHT SIDE'
Banta sent a text message to his pregnant wife. Just in some second the report came on his phone and he started dancing. The report said, 'Delivered'.
People were upset due to frequently tiger attack in wild area village.
When Santa Banta came to know this issue they planned most deadly idea to kill tiger.
We will drink poison and let the lion eat me. Villagers shocked....
There was once a mirror that would kill anyone who spoke a lie...
Bulgarian : I do not drink wine at all.(died)....
American : I am very loyal to my wife. (died)...
Santa: I think.. (died)
Santa was informed by a coworker that his wife was having an affair with Santa's closest buddy every day at 1.30 p.m.
Santa hurried home at 1.30 p.m., worried and hurt, to see whether this was real.
He returned to the workplace happy and relieved.
His coworker inquired about his experience.
"Take a look," Santa urged. "Don't spread such vile rumours! That person isn't my best buddy; in fact, I've never met him."
Santa to Doctor - My wife's fever is rising.
Doctor - is she too hot?
Santa - well, in shorts and Short Nightdress.
::§:: Santa Banta Short Jokes ::§::
1 Baar Santa kO
Raste mE Patthar Mila
UspE Likha Tha
"Patthar kO Palat Lo Kch Ban Jaoge"
Jaise Hi Usne Palta
Dusri Taraf Likha Tha"Bewkuf Ban Gya
Teacher: Tell me the difference between a Callgirl, Girlfriend and Wife.
The entire class became silent until Santa Singh raised his hand and said,
"Prepaid, Postpaid, and Unlimited."
Teacher: write a note on Gandhi Jayanthi
Santa writes: "Gandhi was a great man, but I don't know who is Jayanthi
Santa visited an art gallery.
Santa: I guess you call this nasty looking crap modern art?
Receptionist - Sir, I beg your pardon, but it is a mirror!.
Santa recently found the answer to the most challenging question that has ever been asked.
What came first, the Chicken or the Egg?
O Yaar, what ever u order first will come first.
Let 's have a big round of applause for Santa Intelligence.
A Teacher was lecturing on Population Explosion - "In India after every 10 sec a woman gives birth to a kid."
Santa stood up and said - "we must find & stop her!".
Santa went to a HDFC bank to open a saving account. After reading the form he went to Delhi. Guess why?
The FORM said "FILL UP IN CAPITAL ".
Teacher: "I killed a person" convert this sentence into future tense.
Santa: The future tense is "You will go to jail".
Santa was filling up an application form for a post. He was not sure as to what was to be filled in the column "How Much Salary You Expect for This position".
After much thought he wrote : Yes!
Santa wins 1 cr from a Rs. 50 lottery ticket. The Dealer gives him 65 lakhs after deducting taxes.
Angry Santa: "Give me 1 cr or else return my 50 Rs back.!"
When Santa & his wife filed a case for divorce, the Judge asked: "How will you divide, you have 3 children?"
Santa's reply: "Ok! We'll apply after nine months."
'' latest sms jokes ''
Santa: Aaj TV pe 30 feet ka saap dikhane wale h.
Banta: Acha
Par mai nhi dekh pawunga.
Santa: kyu
Banta: Mera TV to 21 inch ka hi hai
'' latest sms jokes ''
Santa ke bete ka accident ho gaya
Dr.- apke bete ke dono leg katne padenge
Santa ne apna sar pakad liya
Dr.- kya hua?
Santa-kal hi nalayak ko nayi chappal dilayi thi
Santa to Banta oye yaar Car ki speed itani ky badha di..?
Banta: Yaar Car ki break fail ho gayi hai, accident ho jaye iske pahale ghar pahunch jaate hai.
::§:: Santa Banta Short Jokes ::§::
Santa: maine apki dukan se murgi dana kharida tha
DUKANDAR: to kya usme koi kharabi nikli
Santa:mahina ho gya muje khet me boye ab tak murgi nhi ugi
:: Santa Banta Short Jokes ::
Exam me SIR ne nakal Krne Di or
kha Bahar jake Na khna k maine nakal krai h
santa-na g hum kahenge sir to bhut harami tha,
kutte ne hilne b nhi Dia
'' latest sms jokes ''
BANTA-tera history da paper kaisa hua ?
SANTA-'bhout bura',
Saalo ne mere birth se B phale K question puch rakhe the.
:: Santa Banta Short Jokes ::
SaNTA Roti Ka 1 Tukda Khud or 1 Murge Ko Khila Raha Tha
BaNTA-Ye Kya Kr Rahe Ho?
SANTA- Hum Khaandani Log He Roz Roti Chickn K Saath Khate he
SANTA: Kya Daru Pine se khaansi jati hai

BANTA: Kyu nai jayegi
Jab mera ghar, khet, paisa sab kuch chala gaya to teri khansi kya cheej hai
~.~ santa banta short jokes ~.~
santa:aaj meri bakri ne pehla anda diya hai!
banta:bakri kaise anda de sakti hai?
santa:Arre yaar maine apni murgi ka naam bakri rakha hai
'' latest sms jokes ''
2 dost salo k bad mile
Pata chala dono ki shadi ho gayi hai
Santa-kaisi hai tumhari Biwi ?
Banta-swarg ki apsra h
Aur teri?
Santa-meri to abhi jinda h
~.~ santa banta short jokes ~.~
Teacher to SANTA : Tumne Home work Q nahi kiya…?
.
.
.
.
.
.
.
.
Deadly answr given by
SANTA : Sir kyuki hum to "hostel" me rahte hai…
:: latest, new, santa banta sms jokes ::
The most romantic lines:
Main kho gaya hu tumhare pyar me tum b kho jao….

Santa translated in Eng it becomes:
I m lost in ur love, u also GET LOST .
Santa- Yaar.. Suna Hai Teri Patni Bahut Bade Pariwar Se Aayi Hai
Banta- Bade Pariwar Se Nahi..
..Bahut Bade Pariwar Ko Saath Me Le Kar Aayi Hai
:: latest, new, santa banta sms jokes ::
Girl:Suna h is ghar me bhoot-pret rhte h?

Santa: Pata ni,
me to 7 sal pehle hi mar gaya tha

MORAL- Santa ko marne k bad b akal nhi ayi..
Santa, ROAD KI ZEBRA CROSSING PAR BAR BAR UCHALTA RAHA,

WHAT HE THINKS??
GUESS…
"YAAR YE PIANO BAJTA KYO NAHI"
:: latest, new, santa banta sms jokes ::
Teacher: 1869 me kya hua ? Ram: Gandhi ji ka janm hua.
Teacher: Ok beth jao.
Teacher (santa se)- Batao 1872 me kya hua ? Santa: Gandhi ji 3 saal k ho gaye.
Santa Bahut der se ghar me kuch dhundh raha tha..
Patni : Kya dhundh rahe ho..
Santa : Hidden camera dhundh raha hu…Kaha ho sakta hai..
Patni : Aap ko kyu lagta hai ki humare kamre me hidden camera hai…
ZEE News: aap dekh rahe hai Zee News
Santa : Fir ye "ZEE News" wale ko kaise pata chala ki hum unka channel dekh rahe hai

Santa-kaam wali shanti ko bulao
Patni-kyu??
Santa-doctor ne kaha hai, raat me dawa khane ke baad shanti ke saath so jana.
Wife ne santa ke sir par jor se belan mara.
Santa-mara kyu???
Wife-Tumhari jeb me ek kagaz mila hain jispar shabnam likha hain.
Santa-Are maine pichle hafte jis ghodi par resh ka daw lagaya tha uska naam shabnam hain.
Wife-sorry Janu...
Agle din wife ne santa ko phir se belan se mara.
Santa-Ab kyu mara?
Wife-Tumhari ghodi ka phone aaya tha.
Ek din santa ko der se kaam me pahuchne par manager ne bola, late kyu ho gaye?
Santa-Bus stop par ek aadmi ka sau ka note kho gya tha, is wajah se der ho gayi.
Manager-Accha! To tum uske 2000 ke note khojne me madad?kar rahe the?
Santa-nhi sir! Main us note ke upar khada tha.
Santa ne Dukaandar se kaha: - Mujhe India Ka jhanda Dikhao.
Dukaandar ne alag alag size ka jhanda Dikhaya,
Santa: - Isme aur Colour Dikhao yaar.
Home |