Ye khuda Hichakiyo me kuch to phark daala hota
ab kese pata karu ki ki kaun si wali yaad kar rahi hai
Aajkal ke bachchon ko study liye Motivate karane ke liye
Mummy Papa 1 baat jarur bolte hai:-
padh le, padh? le, varna koi baap apni beti nahi dega
1975- Suhagraat ke pahle dulhan ko uski saheli kyaa sikhati thi?
Chillana mat, wo jo kare karne dena.
2019- Jor se chillana, taaki usko lage ki opening batsman wohi hai.
Colony me Prem naam ka andha rahta tha
Andha- Bhabhi laddu le lo
Bhabhi naha rahe the
Ye sooch kar ye to andha hai
Bina kapro ke bahar aa kar boli
yah kis khushi me?
Andha- meri aakhe tik ho gaye hai
Bhabhi-behosh
Doctor- Your x-ray showed a broken rib, but we fix it with photoshop.
Patient- Shoked
Wife to husband- suno jee mere pet me bahut gas ban rahi hai....
Husband- to ajwainkha le
Wife- khaya phir bhi aaram nahi hai
Husband- Phir Medicine le le
Wife - Medicine liya phir bhi aaram nahi hai
Husband- Doctor se dikha le
Wife- Dikha liya par tik nahi ho rahi
Husbnad- ettni gas ho rahi hai to jake 1 Gas Cylinder hi bhar de....
Very Funny Jokes
1 baar 1 airplane me 5 vyakti saphar kar rahe the,
Dhoni, Mukesh Ambani, Rahul Gaandhi,
Narendr modi aur 1 chhoti si bachchi.
achaanak jahaaj me kuchh kharaabi aa gai.
vahaan par 4 parachute the.

Dhoni bola: main vishv ka mahaan
Ballebaaj hoon, mera jinda rahana jaroori hai,
phir ek parachute lekar kood gaya.

Ambaani bola: main vishv ke dhani logo me se
hoon, mera jinda rahana jaroori hai, phir ek
parachute lekar kood gaya.

Rahul Gandhi bola : main is desh ka sabase Lokapriy neta hoon,
mera jinda rahana jaroori hai. phir ekparachute
lekar kood gaya.

Narend Modi bachchi se bole: beti aap desh kee bhavisy ho, jao aap antim parachute lekar kood jao.

Bachchi boli : lekin yaha par to 2 parachute hai,
Raahul Gandhi mera school bag lekar kood gaya!
kal 1 Aunty ne Zomato wale delivery Boy se poocha-
Bhaiya kya tum Bhandarese Chole-Puribhi laa doge kaya??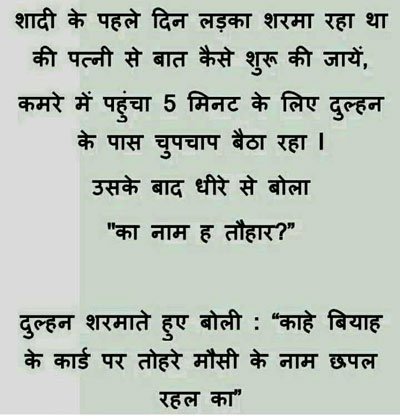 Jab se Pakistan ko pata chala hai ki,
Uske Budget ke barabar to
Bharat mein koi bhi paisa lekar Videsh bhag jate hai,
Tab se uski Hawa nikal gyi hai....
very funny jokes for friend and gf- Friend aaj mai aap ko new Lazzeez recipe banana sikha raha hu...
1 plate angoor lijiye ese Aaina me dekh kar khaye - recipe ka naam hai- Langoor ke muh mein angoor.
Teachr-Ladki or Ladke me kya farq hai?
Pappu-Ladki 1 sal me 1 hi bache ki maa ban sakti hai
But Ladka 1 saal me 365 bacho ka Baap ban sakta hai
Very Funny Jokes In Hindi
Pappu ne apni girlfriend se poocha-
kaya tumhare penty me 2 ched hai?
Girlfriend- nahi to...Besharam!..badmaash!
!
!
Pappu- to phir dono Tange kaha se daalti ho?
bluetooth babbal boy girl jokes- College campus 1 cute ladki khari thi 1 ladka aya use bola'I Love You' ye lo flying kiss.
ladki-ye kaya bola aap ne. Ladka- oye madam me bluetooth pe baat kar rha hu. Phir ladka 4-5 ladke ke pass gaya jo us ladki ko ghoor rahe the
waha ja ke bola- tere baap ko batau kaya. study chor ke ladki ko ghoor rahe ho. 4-5 ladke kaya bola tu. ladka - oye yaar me bluetooth pe baat kar rha hu
Kaam aisa karo ki log kahein,
"tu rehne de me khud kar lunga".
Girlfriend to sab banate hai...
kya koi ladki meri bahan ki bhabhi banegi?
Saalo baad GF ka phone aya
Mene kaha- I love you
Wo boli- tu I love you par hi atka hai
Mere bache school bhi jane lage hai....
Que.: Aap Chay pine ke liye kis had tak Jaa sakte hai?
.
.
.
.
Ans: Ji, Mein ek bar to
Ladki Tak dekhne chala gya tha....
Student se teacher ne poochha batao
ek saal mein kitani raatri(total No. of Night) hoti hai..
Student– 10 raatri
Teacher— 10 kaise?
Student- 9 navraatri or 1 shivraatri.
Master jee ne ab sanyaas le liya hai.
1 Ladke ne Whatsapp pe Status dala
"Shukra karo, ki meri koi Mumtaz nahi...
Varna har gali me ek-ek Tajmahal hota...."
Uspar uski Padoshan ne Comment kiya –
"Pahle ghar me Toilet to banva le Naalayak,
Pura ghar Subah-Subah lota lekar khule me Soch jata hai,
Bade Aaye Tajmahal banane wale...
Gabbar ne apne bachche ka naam PAKISTAN rakha.
Uske Padosi ne pucha –
"Arey tu to bada Deshbhakt bane firta tha n,
Fir bete ka naam Pakistan kyo rakha?"
Intersting Answer:
Gabbar: Deshbhakt hu tabhi rakha hai ye naam.
Taki duniya ko bhi pata chale ki,
Hindustan mein koi aisa bhi hai,
Jo Pakistan ka baap hai.
1 ladki ki Shadi ke 7 din pahele uski Saheli ne pucha: Shaadi ki Sari taiyariya ho gyi kya?
Ladki: Ha, Meine dono Sim todkar Fenk diya, Mobile Format kar diya hai,
Facebook aur Whatsapp Account Delete kar diya hai. Bas tu apna Munh bandh rakhiyo Kalmunhi...
Santa ek badi company mein interveiw dene gya.
Boss: Congratulation! Aapko Select kar liya gya hai,
Aapki pahele Year Salary 5 Lac/Year hogi,
Aur dusre Year 10 lac/Year kar di jayegi.
Yeh sunkar Santa uthkar jane laga.
Boss: Kya hua?
Santa: To mein agle Saal hi aaunga.....
....news politics very funny jokes
Doctor: kya khaaya tha?
Ladki: I ate Burger, French Fries, Coke and a Pizza
Doctor: jara itarao kam...
ye hospital hai, Facebook ya Whatsapp nahi..
jaanch mein sab saamane aa jaega, ab sahee bataau...
Ladki: chaay ke saath baasi roti tel chupad ke
1 scooter ke aage Press likha hua tha
Traffic police: kis akhabaar mein kaam karate ho?
scooter vaala: saahab dhobi hoon,
Society mein kapade press karata hoon!
1 chote sebacchaki dil chhoone vaali - praarthana suno....
priy bhagavaan,
krpaya un sabhi Bechari Gareeb Ladki ke
lie kapada bhejana .
.
.
jo Bada Bhai ke "MOBILE" mein hai
Ladkivaale Shaadi ke liye ladka dekhane gaye
Ladke ka baap - aapki ladki kya karti hai?
Ladki ka baap - Actress hai TIK TOK pe aur aap ka ladka kya karta hai?
Ladke ka baap - Army mein hai PUBG mein
Disease Name- Laziness
Cause: Mobile, Cell Phone + Wifi+Unlimited Internet Pack
Very good Treatment: Mummy ki jhadoo/Papa ka belt/ Dosto ki galiyaan
:: pathan jokes ::

Pathan gusse se:
'Waiter'
Chicken-Biryani me chicken hai hi nahi.
Waiter:
Sahab gulab jamun me konsa gulab hota hai.?
Pathan:
"Haan yar sorry"
Maana Ke Teri Nazar Me Kuch Bhi Nahi Hu Mein,,,
Meri Qadar Un Se Puch Jin Ke Maine Paise Dene Hain.
+ double meaning jokes +

Dil kholo pyaar lo,
Dimaag kholo gyaan lo,
Aankhen kholo khwaab lo,
Honth kholo muskaan lo,
Kapde kholo,
or..
.
.
NAHA lo yaar !
Soch badlo,
Desh badlega.
Best friend wo jo school me apni pen
high school me apni note
collage me bike
Or life me apni wife de de
Mai janta hu tu hi mera Best friend hai
Baap Ne Bete Se Kaha- Dekho Beta, Aaj Tumhari Madam Ki Taraf Se Mujhe Ek Letter Mila Hai
Beta- Aap Befikar Raho Papa, Mai Mummy Ko Nahi Bataunga
aajkal ke bachche kamal hai koi dance me, koi singing me dhum macha raha hai.
hamara bachapan to chhatt pe chadh ke entina ghuma ke chillane me bit gaya....ab saaf aaya kya?
mobile ka vyapari tenson me hai ki freedom 251 ka kavar aur screengard kitne me bechana hai.
mandi ki hadd to tab ho gayi
jab sulabh sauchalay wale ne bola,"bhaiya,bahut din baad aaye".
Football Male Hai Ya Female batoo??
?
?
?
?

Aare Jiske Piche 11 Ladke Underwear
Pehen Ke Bhag Rahe Ho Vo Female Hi Hogi Na.
Ache Acho ne hmare aage pani bhara he
Wah Wah
Ache Acho ne hmare age pani bhara he
Qk
'SARKARI HANDPUMP' mere hi ghar k bahar laga he
Very funny jokes - including pathan jokes, Best friend, double meaning jokes.
Es baar GOD ne sabki sunle H....
Lover/Couples ke liye Valentine's day
Singles ke liye india Pakistan Mach...
Uske ghar me der H par andher nahi
kisi ne mere se poocha - aap shaadi se pahle kaya karte the
Mene kaha - mera jooo dillll kartaaa tha......
Thandi me "pani bchao abhiyan" me baag leta hu to log gali dete hai ki nahate nahi ho.
Anyway, kuch accha karne ke liye kuch sunna parta h //very funny jokes
Girlfriend: "beta tum kya karte ho?"
Boy: "I make news reach its target audience" in a town
Girlfriend: Great..."News reporter ho?"
Boy: "nahi, akhbaar phekta hu"
Before Marriage- Ali
After Marriage- Ghulam Ali......very funny marriage/wedding jokes
Private Secretary- Sir, ye kuch papers hai en par sign kar do...
Boss- Bina dekhe sign kar deta hai
She- Sir dekh to lo phle
Boss- Mast lag rahi ho Yaar.......boss secretary office jokes
jiss din dangon me aam aadmi ki jagah netaon ke ghar phunke jayenge uss din desh me dange hone apne aap band ho jayenge.
samajh nahi aata bharat 1000 saal mugalon, goron, aur purtgaaliyon ka gulam kaise raha?
tab ye dabang jaat, gurjar, patel sab kahan rahte the?
shodh ka vishay hai.
kuchh dost khajaane ki tarah hote hai.....
.
.
.
mann karta, jamin me gaad dun.
bachcha:papa mard kise kahte hai?
papa:uss taqatwar inshan ko jo ghar par hukumat karta hai.
bachcha: main bhi bada ho kar mummy ki tarah mard banunga.
Aajkal log bhagwan se kam aur CCTV camera se jyada darte hai.
santa ped par ulte latake hue tha,
banta ne poochha – kya ho gaya?
santa- kuchh nahin, sir dard kee golee
khaee hai, kaheen pet mein na chalee jae.!!!
Toophaani baarish aadhi raat ek aadami
Pizza hut se pizza lene gaya
Pizzaavaala:- aap shaadishuda ho??
Aadamee:- saale, aise toophaan mein kaunasi
maa apane bete ko pizza laane bhejegi.
ab to khair log itana nahin rote varana...
pahale log lanaki ki vidai ke vakt itana rote the
ki
..
.
dulha bhi kah deta tha rakh lo bhai... nahin chaahie
Santa ki taangen neeli pad gaeen.
Doctor -"jahar hai...kaatani padengeen !"
.
taangen kaatakar nakali laga di gaeen.
do din baad nakli taangen bhi neeli pad gaeen.
.
Doctor – "ab beemaari samajh mein aai...jeens rang chhodati hai!"
Hajj aur Ganga Snaan to gareebon ka Nazariya hai. varana Ameeron Raees ke paap to High Court and Supreme Court dhota hai.
Love is like Bus traveling and wedding or marriage is just like plane traveling.
When you do not want travel more or anytime you can steps down from Bus but Not from a Aeroplane.
Bhagvaan ne har Man/Boys ko
alag alag(Different) aur alag Soch banaaya hai,
Lekin jab Girls/Women baari aai vah thak chuka
tha aur Copy-Paste, Copy-Paste karake
sabako nipata diya aur sab ek hi soch wala bana diya
Name of Courts in ascending order :
1. Sub Judge
2. CJM Court
3. Session Court
3. High Court
4. Supreme Court
5. International Court of Justice
6. God
7. Mother in law
8. Wife .......
9. News Channel .......interesting jokes
Dukaandaar :- ye Mobile le lo isme "3 GB" RAM hai......
-
Owaisi :- nahin nahin, hamen vo Mobile dikhao jisamen "RAM" nahi Allaah ho ..
-
Dukaandaar: Kaya bewakoof wali baat kar rahe hai, bina
"RAM" ke duniya nahi chalti to Mobile Phone kaise chalega.
RBI vaale nae note par itana aur likh
Dete ki "Kashmir Bhaarat ka hai" to
Padosi Desh kabhi nakali note hi nahi chhaapata.
par hamase koi poochhata kahaan hai!
Bhagvaan ne badi mehanat kar Maa banai,
Shaitaan ne bhi socha kuchh banaen,
to phir usane Saasu Maa banai.
Home | very funny sms | very-funny-sms jokes on santa banta | very funny sms for friends